In Memory
Dave Housman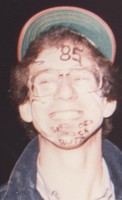 David Wayne Housman, a man I loved like a brother, was taken from this earth entirely too young in my opinion. He was only 49 when he unexpectedly died of a sudden heart attack at his home in South Lyon, Michigan on July 7, 2016.

Dave was born on February 13, 1967 in Washington, Pennsylvania, to Diana and the late Alfred Housman. He grew up in Hanover, Massachusetts until fifth grade then moved to Loveland. I think he was in Mrs. Smith's class. I remember his thick Bostonian accent, which I could hardly understand. Dave spent his freshman year of college at Penn State University then transferred to Ohio State (THE Ohio State University, as he called it) where he graduated in 1989 with a B.A. degree in political science.

Dave was an avid distance runner from middle school up until his death. He was Vice President and Senior Director of Sales, Inter-Americas and Europe, Global Sales and Marketing Division at Omron Automotive Electronics where he worked for 20 years.

Dave will be sadly missed by all, like myself, who knew and loved him. One of the things I will miss most about him is his sense of humor. I can still hear his wonderful laugh. Dave lived his life constantly seeking happiness in all that he did, something I think we should all do. He was a true family man--a devoted husband to his wife of 17 years (Katherine), father to two daughters (Reeves, 14, and Anya, 11), son, loving brother to Allison, son-in-law, and uncle.. Until we meet again, rest in peace, my dear friend. .